Establishing a Trust Bond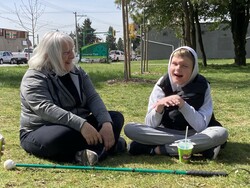 Students with deafblindness thrive when they feel safe in the learning environment. It is important to be aware of and sensitive to the impact of reduced vision and hearing abilities on learning, establishing relationships, and communicating.
One of the key areas to address in establishing an effective learning environment is the relationship between the student and the Intervenor. According to Rodriguez-Gil (2009), time, thought, care, and conscious effort are needed to build relationships so a student with deafblindness feels like they belong and are safe in the environment.
It takes time for a student with deafblindness to feel comfortable with people they do not know. The process of bonding between an individual who has deafblindness takes longer than those who have full sight and hearing. Sighted-hearing people gather information through observation and interactions to develop their understanding about social interactions and relationships. For a student with deafblindness, the reduction in visual and auditory information available for them to gather is significant and often causes anxiety and stress. Working with unfamiliar people can cause stress when the student does not know who the person is, they are not able to effectively communicate with them, or they don't know what is going to happen/expectations.
Developing and implementing effective educational programs require Intervention through a skilled, trained Intervenor who can provide consistent, structured, familiar interactions. Each time a student needs to develop a relationship with a new Intervenor to the point of feeling safe and secure so that they can meaningfully participate in their educational program, there may be a delay in learning and acquiring new skills and concepts. 
Rodriguez-Gil (2009) provides some excellent strategies that can help build a trust bond between an Intervenor and new student:
Take time to be with the student and get to know them.
Do activities WITH the student that they enjoy.

The Intervenor's Motto: Do with, not for

Observe the student for things that they find enjoyable. Take an interest in their interests
Have a consistent greeting or way that you approach the student so they know who you are and what they can expect.

Use a personal identifier.

Go at the student's pace.
Some students with significant visual impairments or are totally blind may find it helpful when you maintain physical contact so that they know you are there.
Let your student know when you are leaving and when you return.
Learn how your student communicates and be responsive to communicative attempts.
Rodriguez-Gil, G. (2009). Fundamental classroom conditions to enhance learning experiences for students who are deaf-blind. California Deaf-Blind Services. In reSources newsletter. Summer 2009; Vol 14, No. 2. 
The Impact of Stress on Brain Development
Check out Dr. Judy Cameron's presentation on stress in the Professional Development section. In her presentation, she discusses how stress affects brain development and how we can build resilience in our students with deafblindness.