Sensory Bins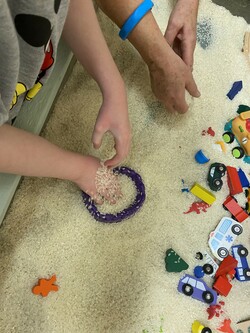 Sensory Bins are a way to provide sensory stimulation for students with deafblindness. To make a sensory bin, fill a large container with carefully chosen materials or objects that would provide sensory stimulation. For example, you might use shredded paper, rice, water beads, cereal, water, sand, and more. Sensory bins can be designed to stimulate whichever senses you are targeting, including vision, hearing, touch, smell, and/or taste.
Before implementing Sensory Bins, please connect with your TSVI, TDHH and or POPDB consultant to ensure it is appropriate for your student.  
Beware of choking hazards, texture shelf life, towels on the ready for wet textures, and go at your student or child's pace. Have fun!
More Sensory Bin Resources: 
Ultimate List of Sensory Bin Ideas, Incredibly Easy!